Overview Of Parents Association
The purpose of the parents association- formed in 2015 and going from strength to strength- is to provide a structure through which the parents/guardians  of children attending St Joseph's College can work together to provide the best possible education and school environment for our children.
It may help and advise the principal and the Board of Management in any matter relating to the school.
Aims Of The Parents Association
To provide a forum to inform and consult parents/guardians regarding school policy/plans and activities.
To communicate parents' views to the principal and Board of Management.
Fundraising
Fundraising is ongoing and has included our annual Tractor Run and Borris Mile. Funds have been spent on a Hydration Station in the school, new lockers, IT equipment and PE equipment. We have also contributed to training seminars for both parents and pupils.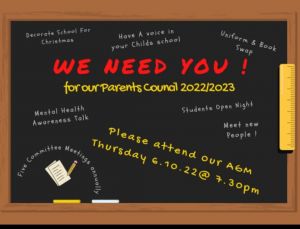 The AGM of St Joseph's Parents Council will be held at the school on Thursday 6th October 2022 at 7.30pm.  New members are always welcome and are needed each year to ensure the continuation of the great work done by previous parent council members. Please attend the AGM and consider joining the committee for the school year 2022/2023.  The commitment equates to approx 5/6 meetings over the school year, 1 fund raising event, decorating the school at Christmas, the book swap in June and the open night in October. Can you please consider giving one year of your time to your child's school ??
If you, or someone you know would like to be nominated (with their agreement) please email the nominations to office@stjosephscollege.ie by Tuesday 4th October at 3.30 p.m.
It is very important that as many parents as possible get involved as the Parents Council is your way of having a voice in your Child's school.
Thank you
St. Joseph's Parents Council. 
If You Wish
St Joseph's College

To Contact You
Please Send Us Your Details & We Will Be In Contact.